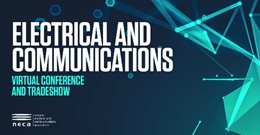 Workbench is pleased to be a part of the NECA virtual conference for 2020.
This is the first virtual conference that we have be involved with and we are very excited to see how it all works. From what we have seen so far we think this will definitely be a big part of the future of conferences in the post Covid world.
We will be discussing our many years of experience supporting the electrical contracting industry with management software and share some of the journey we have had with our clients in this space.
If you want to be a part of this event
Register here: https://neca.vfairs.com/