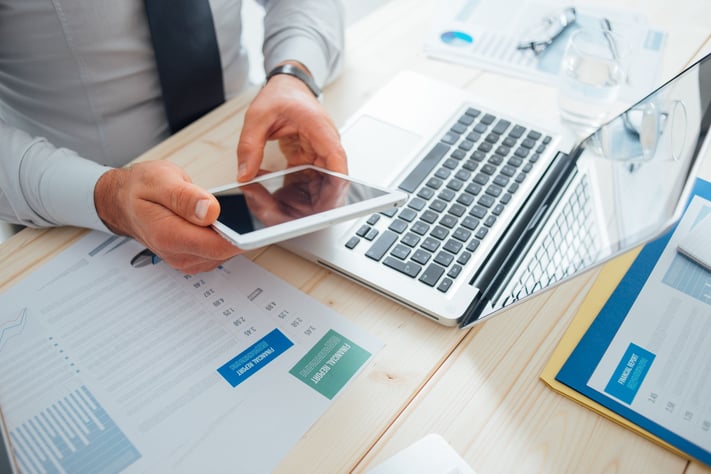 Technology is constantly evolving!
Technology has come a long way since the dawn of the computing age and it is showing no signs of slowing down. In general, the majority of technology shifts provide a positive impact, and if we learn to utilise these advances in technology successfully, we can enjoy a multitude of benefits.
For example:
Price - Technology is getting cheaper and you generally are getting more for less
Stability - Devices and software are becoming more functional and robust
Choice - There are more hardware and software suppliers than ever
The rapid changes we are seeing in technology are also bringing with it several problems. These difficulties affect everyone from hardware and software developers to the consumer.
For example:
Trends – Changes in market trends tend to drive supplier choices (e.g. the rise of the laptop and the death of the desktop PC)
Options – with so many choices it can often be bamboozling deciding what solution is right for your needs
Skills – with changes in technology happening so quickly, learning to stay up to date with the latest and greatest is an issue that did not exist 20 years ago
In this article we will focus on one particular aspect of technology, the topic of an on-premise vs a hosted solution. In my work as a software consultant, and as part of a company that provides both on-premise and hosted solutions, I see all manner of solutions presented to clients.
I also see a lot of clients' eyes glaze over once we start talking about the options of on-premise vs hosted solutions. Unfortunately for a lot of these people, they are caught up in the advancing wheel of technology and they have not yet had the opportunity to understand what this all means. Below, I will address many common concepts and terminologies in an attempt to take away a bit of the mystery.
Terminology
Below are some of the more common terms you are likely to hear when looking for a solution:
Term
Description
On- Premise

The software is installed on a server on your premises

Hosted

The software is installed on a server off-site, often in a large data centre

Cloud
"

Cloud computing", "In the Cloud" refers to software delivered over the internet

SAAS

"Software as a Service" software is licensed on a subscription basis and is centrally

hosted
On-Demand

Equivalent to SAAS where you pay for software as you use it

RDP

Remote Desktop, remotely logging into a computer in another location

Citrix

Software for deploying normal desktop software over a large area or the internet

Historically, software was sold as a commodity e.g. Microsoft Office. You paid $xx and used that version of the software until the next version came out, then you might choose to buy the new version to replace your existing software. The software was yours, you installed it on your PC, and you were responsible for it. **(Note that Office 365, which is the latest version of office, is SAAS).
Nowadays, many software vendors are providing their software through the internet, and typically this software is sold as SAAS. One of the most obvious examples of this would be something like Xero accounting. Xero is a totally web-based accounting package that you can sign up for today and start using within minutes. You can keep using it as long as you keep paying the subscription fee. The software is hosted and all you do is use it, Xero look after the maintenance of the software.
I am looking for a software solution for my business - should I go on-premise or hosted?
This is an interesting question and there is no black and white answer. I have outlined what I see as the perceived benefits and weaknesses of each solution and hopefully you can identify for yourself the path that best suits your situation.
On-Premise
This is the traditional method for deploying business software and has been proven to work over many years.


Benefits:
Security - you are in control as it is your software on your server
Performance – if you are in an area where there is limited or poor internet performance, running software locally will give you the best performance
Features – sometimes the software designed for on-premise installation is more feature rich than its web based equivalent. Generally this is because this software has been around much longer than the web-based version and has had many more years of development input.


Weaknesses:
Infrastructure – you will need to purchase appropriate hardware to run the software. This will have a significant cost and probably a 5-year lifespan at which time you would expect to replace this with new hardware. As your business grows you may have to upgrade this many times.
Cost – Generally you must pay for the software upfront, which will be significantly pricier than SAAS software, and you may also have to pay annual maintenance fees on it
Security – you will need to ensure that appropriate backups, updates, and other routine maintenance are done and are applied to servers / machines /software to ensure the entire ecosystem continues to run smoothly
Future Proofing – Many older software vendors do not have a modern web based equivalent of their software. This results in companies that are not prepared or capable of redeveloping their current software using a modern web framework, and they are simply riding out their existing customer base with no real future. As a consumer of their software it could mean they are leading you down a dead-end path.
Access – It is not as easy for people to access the software from outside the office without setting up other tools, e.g. Remote Desktop or Citrix
Performance Degradation – As software is updated and new features added they put increasing demand on hardware. Overtime this can cause the overall performance of the systems to decrease.
Hosted / SAAS
This is the new way of delivering software and its popularity has been rapidly increasing in recent years.
Benefits:
Immediacy – Usually you can subscribe to most of these software packages online and start using them straight away
Low Upfront Cost – because you are paying for a service it is considerably cheaper initially
Minimal Infrastructure – because the software is hosted on someone else's server, all you need is a PC with a good internet connection and you are in business
Flexibility – As you grow you can just add new users without having to worry about upgrading servers and networks, etc.
Mobility – People will be able to easily access the software from anywhere with an internet connection
Security – Generally this software is kept up to date and backed up by the supplier so you do not need to worry about routine maintenance
No Performance Degradation – Generally with SAAS, you should always get optimum performance of the software as typically it is deployed through a large data centre that is always being monitored and upgraded to deliver maximum performance.
Weaknesses:
Internet Connection – Without a good and reliable internet connection, this solution is never going to work well
Transparency – You do not know where your data is being stored, how secure it is, or how often it is being backed up
Less Control – Because someone else is controlling the software and updates, this will happen automatically and you will just have to deal with the changes (although generally these are minor and of no impact to most users)
Long-Term Costs – Although the initial investment is less the on-going costs could be higher. **This is a bit of a grey area and time will tell as costs for hosting and SAAS providers become cheaper and more competitive.


What is right for me?
As you can see there are a lot of things to consider when choosing a solution for your business. Below are a few examples of different businesses and what I think would be the best option for them to implement. This is purely my opinion based on my experience and other people may have different views.


Scenario 1 – Startup / Small Engineering Consultancy
A small business based in Melbourne of 5 people, you have 3 people working in Sydney and another person based in Perth. You have minimal overheads and you are expecting to grow quickly, so you need flexible and scalable systems.
What your key systems might look like:
| | | |
| --- | --- | --- |
| | | |
| Accounting | Hosted | Xero / QuickBooks / MYOB |
| Office Apps | Hosted | Office 365 / Google Docs |
| E-mail | Hosted | Exchange / G-Mail / Yahoo |
| Line of Business | Hosted | Workbench or similar |
| Storage | Hosted | One Drive / Dropbox |
In this example a hosted lightweight solution is totally appropriate, it allows you to focus on the business and not have to worry about managing an IT environment. New users can be added in minutes and can access information from anywhere with no specific hardware requirements other than an internet connection.
Scenario 2 – Established Mid-Size Engineering Consultancy
A mid-sized business based in Melbourne of 50 people, you have 20 people working in Sydney and no aspirations of any other offices at this stage. You have an established client base you work for and provide some specialist engineering design services which require some specific CAD software.
What your key systems might look like:
| | | |
| --- | --- | --- |
| | | |
| Accounting | Hosted / On-Premise | MYOB Advanced / SAP B1 / MYOB EXO |
| Office Apps | Hosted / On-Premise | Office 365 / Google Docs |
| E-mail | Hosted / On-Premise | Exchange |
| Line of Business | Hosted / On-Premise | Workbench / CAD Software |
| Intranet | Hosted / On-Premise | Sharepoint |
| Storage | Hosted / On-Premise | Network / OneDrive / Dropbox etc |
| Remote Access | On-Premise | Windows RDP |
In this example, you probably have an existing investment in infrastructure and are probably already running a Windows network. You are probably also running an intranet and have appropriate network storage and data backup facilities. You have your own or regular IT support so you can manage your own environment. In this case, you may prefer the software to be installed on your network so you can control it. Hosting is less of a benefit for you but you may still choose this option for convenience if your current environment is not appropriate for the software due to age or it is already running at maximum capacity. Over the next few years, we will see a lot of businesses in this space start to run a hybrid model of on-premise and hosted software solutions.


Scenario 3 – Large International Corporate
As part of a global engineering consultancy, your systems are dictated by your US owners. They are designed by an internal IT team to fit in with rules and processes as established by an internal governance team. They are very rigid and highly controlled, and most of your systems are on-premise where you have a team of internal IT technicians maintaining them.
What your key systems might look like:
| | | |
| --- | --- | --- |
| | | |
| Accounting | On-Premise | SAP R3 / JD Edwards / Sun Accounts |
| Office Apps | On-Premise | Office 365 |
| E-mail | On-Premise | Exchange |
| Line of Business | On-Premise | Workbench or similar |
| Intranet | On-Premise | Sharepoint |
| Storage | On-Premise | Network |
| Remote Access | On-Premise | Citrix / Windows RDP |
In this example, the environment and the software are governed by internal policies. These are not agile systems and they require a large investment in infrastructure. A massive amount of time and effort goes into establishing and maintaining these systems. Eventually, I believe these large corporates will start moving towards more agile hosted solutions but that is probably still a year or two away.


Conclusion:
You have never had more choice than you do right now, when evaluating your choice think about how your business operates today and how you see it operating in 5 years time.
If you are a small business with minimal existing infrastructure and you want something immediate and agile you are best to look at hosted / SAAS solutions
If you are a medium sized business with an existing investment in IT Infrastructure and systems then you can probably take a more measured approach and choose either hosted or on-premise solutions depending on what suits your scenario best. Companies running hybrids of on-premise and hosted solutions will become increasingly common as the IT landscape changes over the next few years.
If you are a large corporate, chances are there is many factors involved in the decision-making process of any solution. The likelihood is that every option will go through rigorous scrutiny before being deployed so in this environment no offering will be quick and immediate. Historically in this space systems have tended to be on-premise but we will see this starting to change as hosted solutions become more mature.
I hope this article has given you a new insight and clearer perspective on hosted vs on-premise computing solutions. Although these are just my own personal views I hope that if you are going through the process of choosing a solution you have found them useful and informative.