Accounting Solution Providers - Australia
Workbench is proud to work with the following solution providers across Australia and New Zealand. We are happy to recommend an appropriate partner based on your location and specific requirements.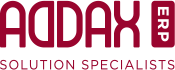 At Addax, we work with the best to ensure you perform your best.
Addax specialises in the delivery of ERP software solutions that allow you real-time visibility and control over your business.
Fully equipped with the latest integrated technology, we create a business solution that meets your unique business needs.

Axsys We Make Business Better
With over 20 years' experience in successfully delivering software solutions to leading organisations in both government and private sectors, Axsys is Australia's leading and most experienced and trusted MYOB Enterprise solutions providers.

MYOB Solutions for Bigger Business
Bizpro are dedicated MYOB Enterprise Platinum Partners.
We don't implement, sell or distribute any other software enabling us to focus 100% of our resources on you and your solution.

Inecom Your Business Solutions Partner
By working together, we can deliver all that is best in the ERP solution that you decide to implement through our certified team for SAP Business One, SAP Business ByDesign and MYOB Advanced.
These solutions are designed to bring your entire company, team, customers and suppliers together and as such, your company is suddenly transformed into a cohesive first class team that will help you lead in your market.

Helping Business Think Bigger
Momentum Software Solutions are a fully accredited, multi-award-winning MYOB Platinum Partner, providing tailored MYOB business management solutions to bigger businesses throughout QLD, NSW and the Northern Territory.
Based on the Sunshine Coast, we have been empowering people in business and helping them think bigger for over 9 years.
ERP software is just the beginning
Star is your long-term business software partner and provider of intelligent business solutions; including ERP, CRM and financial management software.
We offer a complete service from business analysis and scoping to custom development and implementation to on-going support and maintenance.

We help to better utilise technology for your business
Thrive creates tailored business software solutions by actively sourcing the best software available to help you stay on top of the game.

Our team of experienced industry professionals work with you personally, to assess your systems and processes, make recommendations, deliver your project, and provide ongoing support to keep things running smoothly.

If you want your business to Thrive, contact us today.
Keep up to date with what's new and exciting with Workbench
Blog subscribers get email updates daily, weekly or monthly. Automagically.